Skip to Content
3 Reasons to Invest in an ACASA Senior Care Franchise in 2020
The Senior Home Care Franchise Offers Entrepreneurs a Big Business in an Even Bigger Industry With a Proven Business Model That's Easy to Scale
As the new year unfolds, entrepreneurs are seeking a business opportunity that not only garners high-profit potential but also allows them to make a difference in the lives of those it impacts. ACASA Senior Home Care franchise is the perfect fit.
While ACASA is new to franchising, it's not new. New franchise owners will benefit from a proven business model perfected over eight years by the founders in the heavily regulated state of California. If you can make a business work there, you can make it work anywhere. Our simple business model is highly efficient, simple to scale, and maximizes profitability.
Furthermore, we are a need –  not want – business. ACASA is a brand new business in a booming $400 billion industry, and this is an advantage: while the senior home care space is crowded, a lot of brands are either sold out, stagnant, or suffer from tired branding. Being that the demand for senior care is so large, at least 20 percent of any population is going to be over the age of 65, franchise owners do not have to worry about the competition if they follow the business model.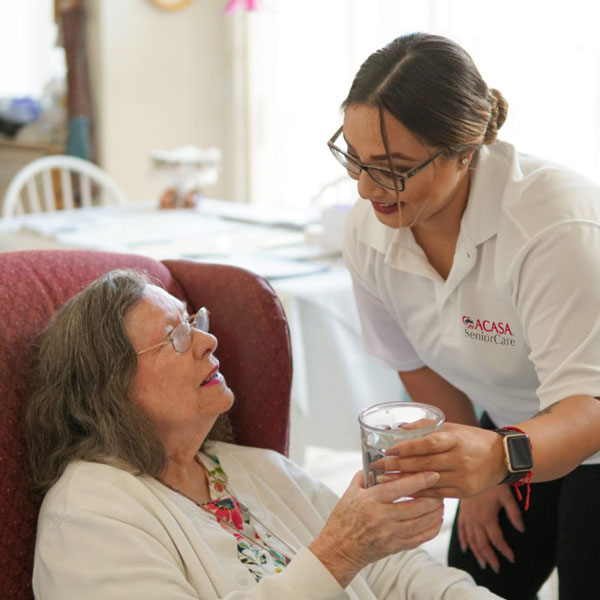 Here are three reasons to invest in an ACASA Senior Care franchise
Own a need – not want – business
In the U.S., 10,000 seniors are turning 65 every day until 2030. This wave of aging seniors is sometimes referred to as the Silver Tsunami. In reality, it's a tsunami of need, as the majority of these seniors prefer to age in place, and millions of seniors will require in-home care. While the field is crowded, ACASA has proven that you can run a highly profitable business by following our time-tested blueprint to run a highly profitable business.
You'll never be in business alone
As a franchise owner with ACASA Senior Care, our seasoned team will set you up for success right from the start. You will have access to the best training available, obtain guidance with personal branding and be educated on how to use various marketing tools in the senior care industry. Additionally, because we are a brand new franchise, you will get unique access to our experienced team of home care professionals, all of whom are industry leaders and are extremely knowledgeable about how to succeed in this business.
Stand out by focusing on veterans
ACASA stands out in its commitment to helping veterans: New franchise owners are encouraged to focus on building relationships with local VA hospitals and other veteran groups as a way to win business from this underserved segment.
Ready to Bring Acasa Senior Care to Your Community?
If you're ready to join the ACASA Senior Care franchise family, simply fill out an application on this site to begin a conversation. We can't wait to learn more about you, and see if we can help you realize your dream of owning a business that makes a lasting difference.