Skip to Content
How Does ACASA Standout in the Senior Care Industry?
ACASA Senior Care Franchise Is Poised to Become a Leader in a Rapidly Growing Industry
ACASA Senior Care franchise may be the new kid on the block of the booming $400 billion senior home-care industry, but the industry is ripe for a fresh brand to take on the rapidly growing need for senior home-care. While the senior care industry is competitive, a lot of brands are either sold out of territory or have plateaued in terms of growth. In fact, this is the very reason why ACASA Senior Care was founded. Daniel Wong, along with his wife Inna, founded ACASA after a dispiriting experience when Daniel's father and grandfather became ill in quick succession. This led Daniel to leave his successful career as an executive in the pharmaceutical industry and start a senior care company that was fully committed to the client experience and peace of mind for the families that need it.
"ACASA was born out of the belief that people who want to age in place should be treated to the quality of care that they deserve, and their loved ones expect," Daniel says. "Our clients are often families who have to make decisions quickly, and they're relying on us to take care of their aging parents or grandparent. When they hire ACASA, it's a decision that really matters and we honor this by going above and beyond for their loved ones. We're committed to helping them find peace of mind because I know firsthand what it means when you can't get peace of mind, and we've worked hard to make sure that ACASA cares for your loved ones the right way."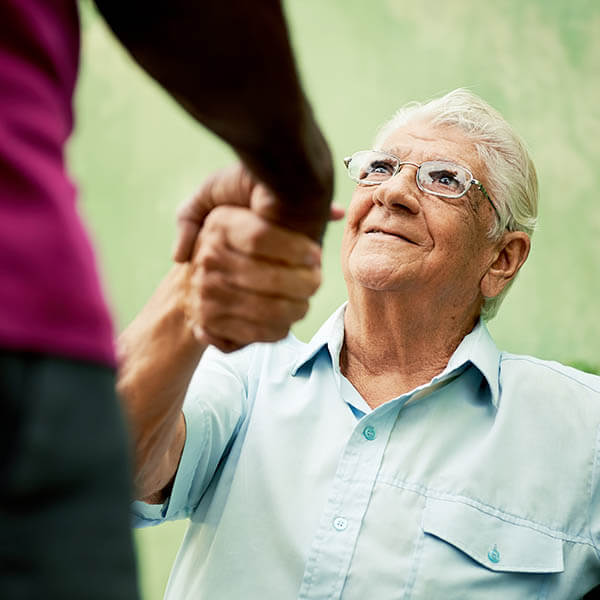 The Need for Senior Care Is Overwhelming
If you're lucky enough to live a long life, at some point you're going to need some help. For the 77 million seniors in the United States and the nearly 40 million more that are turning 65 by 2030, the time for help is rapidly approaching. This need often hits family members suddenly and unexpectedly, as many children live away from their aging parents and grandparents, and the majority of them learn about senior care options and senior home care brands only when the need arises.
But what they do know is that their aging parents prefer to remain in their homes. In fact, AARP reports that 91% of seniors want to remain in their homes as they age.
ACASA Means "At-Home"
Home Is Where 91% Of Baby Boomers Want to
Remain as They Age. -AARP
"Older Americans determined to stay in their own homes are likely to need help at some point – for a few hours a day or 24/7 – with household chores, nursing services and personal care," AARP reports. "And with 10,000 baby boomers a day turning 65 between now and 2030, the need for home health care will only increase."
Hospitals, too, are very concerned with keeping readmission rates low for aging seniors as the demand for care continues to increase. Lowering readmission rates with home-care services benefits hospitals' performance scores, which is vitally important to their relationships with insurance companies and the public at large.
"We keep hearing the foreboding statistics: 10,000 baby boomers in the United States turn 65 every day; our aging population is expected to double in the next 20 years and swell to 88 million by 2050; 75 percent of Americans over 65 live with multiple chronic health conditions, ranging from diabetes to dementia," CNBC reports. "It is no secret, either, that the nation's strained health care system is trying to keep sick and longer-living seniors out of hospitals, assisted-living facilities and nursing homes and instead in their own homes, which is where they want to live out their golden years."
This is exactly where ACASA excels.
ACASA Offers Tiers of Service to Help
Seniors Age in Place
Unlike other senior care brands that offer a one-size-fits-all approach to senior care, ACASA offers tiers of service to meet the needs of the client. All ACASA caregivers are insured and bonded, background screened, and trained to foster independence. We earn our clients' trust with continued compassion, care, and skill.
Here are some of the ways we help our clients:
Hospice Care
Alzheimer's & Dementia Care
Affordable Hourly and Live-In Rates
Companionship and Conversation
Medication and Appointment Reminders
Light Housekeeping, Laundry, and Ironing
Escort to Appointments or Social Activities
Bathing, Dressing and Basic Personal Hygiene Assistance
Incontinence Assistance, Toileting
Encouragement & Comfort
Provide a Stable Bathing Environment
Errands / Drop Off / Pickup
Lunch or Dinner with friends or family
Personal Care Assistance
Dressing Assistance
Assist with Pet Care
Assist with Walking
Prepare Grocery List
Visit Neighbors & Friends
Change Linens & Make Beds
Pick Up Prescriptions
Grocery & General Shopping
And more
"Our number one focus is safety," says Inna Wong, VP and Director of Client Care for ACASA Senior Care franchise. "It's more than simply being there. As a nurse, I know that what our clients need the most help with is remaining safe in their homes. Our clients often need help with remembering that it's time to take their medication, or when it's time to eat. Hydration is a big problem with seniors as they age – they often forget to drink enough water. Most importantly, they need companionship – someone to talk to, someone to play games with, someone to make them feel loved and important. That's exactly what we do."
We Match the Caregiver With the Clients They Serve
ACASA has a unique approach to senior home care in that we have access to software to match the personalities, interests, hobbies, and more of our caregivers with those of the clients we're serving. This creates a uniquely personalized approach to senior home care that ACASA excels in delivering.
"I don't know why other companies didn't think to do this," Inna says. "If one client loves to play cards and have minimal social interaction, and one client loves to be active and socialize, they deserve to have caregivers who are interested in the same things. This creates a genuine connection and makes the client feel valued and understood. The families we serve deeply appreciate this aspect of what we do."
Ready to Bring an ACASA Senior Care Franchise to Your Community?
The total investment estimate for an ACASA Senior Care franchise ranges from $76,975 to $166,650. The senior home care market is strong and growing, and ACASA stands out from the competition. If you're ready to join the ACASA Senior Care franchise family, simply fill out an application on this site to begin a conversation. We can't wait to learn more about you and help you realize your dream of owning a business that makes a lasting difference.
Start Growing Your In-Home Senior Care Franchise