Skip to Content
How Do I Hire Caregivers?
ACASA Senior Care Franchise Is Committed to Hiring the Best Caregivers
Because That's What Our Clients Deserve
ACASA Senior Care believes that the burden of caring for an aging parent or grandparent shouldn't fall on the family. The emotional costs of caring for a loved one are far too demanding, and often, far too intensive to place in the hands of a family member. This is why they call ACASA home care franchise. Because of this, ACASA Senior Care is committed to hiring and retaining the best caregivers in the markets we serve. Even in a caregiver shortage, ACASA Senior Care is on a mission to become the preferred brand for caregivers with incentives such as better pay, 401k options, flexible schedules, employee referral bonus programs, employee perks programs, and more.
Our Caregivers Are in a League of Their Own
Our compassionate caregivers choose ACASA Senior Care home care franchise because we offer a family atmosphere, flexible schedule, and have a matchmaking process that highlights their skill sets and interests. We look for experience with the following:
Senior In-Home Care
Dementia or Memory Care
Parkinson's Disease
Multiple Sclerosis
Facility and or Hospice Care
Mental Health & Depression
CHF and/or COPD
Hypertension
We also ensure that our caregivers provide:
Current CNA license
Current TB Results and/or Chest X-Ray within 1-2 years
Current CPR License
Clean background report
Valid Driver's License and Current Auto Insurance
Reliable Transportation
This puts our caregivers in a league of their own.
"We celebrate our caregivers," says Inna Wong, VP and Director of Client Care for ACASA Senior Care franchise. "They're incredible people. The work they do deserves to be valued, respected, and praised. We go above and beyond for them, not only in terms of pay but also in terms of our appreciation. We've found that the more we show our appreciation for the work they do, the longer they stay with us, and this means a great deal to me and our clients."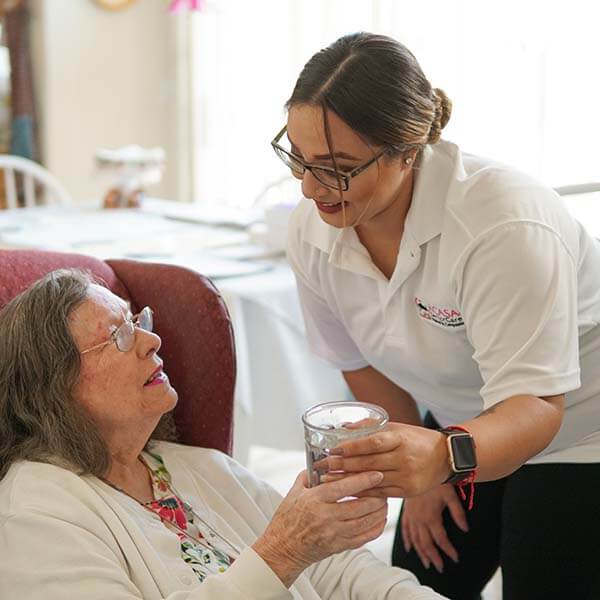 We Match Caregivers With the Clients That Suit Them Best
Unlike other senior care companies, ACASA Senior Care has access to a software platform that allows our caregivers to choose the work they enjoy most. By catering to their needs, our caregivers are elevated to a higher level of care, which ultimately means a far better experience for our clients.
"The way that we choose caregivers is extremely beneficial for the client," says Lisa Ciotoli, owner of an ACASA Senior Care Franchise in Atlanta, Georgia. "I'm in assisted-living facilities all the time and the amount of abuse and neglect you see from caregivers with other brands is astounding to me. We don't tolerate that because we hire the best people, and then we're good to our people. Caregiving is an extremely noble profession and those who do it well should be celebrated. That's what I admire most about Daniel and Inna, and that's what I do in my own business: celebrate my caregivers."
Ready to Bring an ACASA Senior Care Franchise to Your Community?
The total investment estimate for an ACASA Senior Care franchise ranges from $76,975 to $166,650. The senior home care market is strong and growing, and ACASA stands out from the competition. If you're ready to join the ACASA Senior Care franchise family, simply fill out an application on this site to begin a conversation. We can't wait to learn more about you and help you realize your dream of owning a business that makes a lasting difference.
Start Growing Your In-Home Senior Care Franchise